[Tokyo Choir Kyo]
[KURIYAMA, Fumiaki]
[Ritsuyu-kai]
[Commissioned works]
[Discography]
---
Tokyo Choir Kyo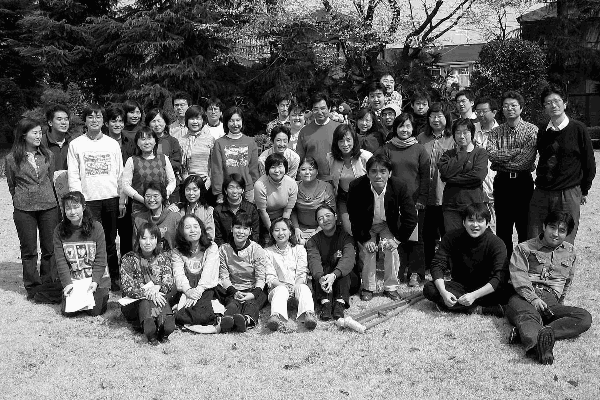 Tokyo Choir Kyo was founded in 1981 as Tokyo Choir OMP, consisting of about 60 members, all of which are amateurs from around Tokyo. OMP had participated in "JCA National Choral Competition" every year until 1994 and won two Grand Prix as well as eleven Gold Prizes. In 1996, OMP was invited to the 4th World Symposium on Choral Music in Sydney, Australia, representing Japan and its performance was highly commented. OMP changed its name to Tokyo Choir Kyo in January 2001 to welcome the new 21st Century. Kyo has inherited the spirit "Learn from the Past, Live in the Present and Create the future" which was cultivated at the time of OMP. Their goal is to contribute to the further evolution of the Japanese choral culture.
Repertoire of Kyo is very vast, from the early European music, mainly on the late Medieval to the Renaissance, contemporary pieces written by both the European and the Japanese composers and to the "Theater Pieces". Kyo has also commissioned the Japanese contemporary composers such as MIYOSHI Akira, NIIMI Tokuhide, NISHIMURA Akira and MIYAKE Haruna a lot new pieces. Most of those commissioned works by the Japanese composer requires for a choir to develop high level of technique as well as diversity of voice texture from bel canto to the traditional Japanese singing.
"Theater Piece" is a new genre of the choral music that emerged in Japan in the 70's, can be defined as a choral piece with performance done by the choir. It goes beyond singing, some of which are like choral opera and others more like symbolic plays. Tokyo Choir Kyo has been putting a lot of focus on the commissioned works and on the performances of this new style of choral music, in collaboration with the distinguished stage directors.


Commissioned works & Discography
KURIYAMA, Fumiaki : Director, Conductor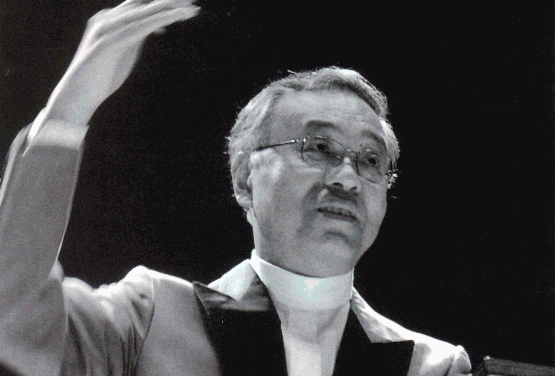 He was born in 1942 in Shimane pref., Japan. He is the musical director and conductor of "Ritsuyu-kai" which is made up of four mixed choirs, six female choirs and two male choirs.
He has been active in various performances and also has commissioned many new works to Japanese leading contemporary composers.
From 1997 he has promoted the Tokyo Cantat with his friends who are young Japanese conductors and choralists.
In 1992, he was invited to the Oregon Bach Festival, which was promoted bv Helmuth Rilling. And in the same year, he was also invited to the 20th Meeting of Polyphonic Choir "Citta di Fano" in Italy.
And in 1993, he also invited to the 3rd World Symposium on Choral Music in Vancouver as an expert in Japanese contemporary choral works.
In 1994, he participated in Tolosa International Choral Contest with his choir "Coro Kallos" and awarded the Grand Prix.
Moreover, he participated in VII European Grand Prize of Choral Contest held in Arezzo in Italy and won the Grand Prix.
He was also invited to the 4th World Symposium on Choral Music in Sydney in August, 1996 with his choir "Tokyo Choir OMP".
In 1998, he was invited to Tolosa International Choral Contest as a jury.
In 2002, "Da Capo concert" was held for memorial of his 60th birthday, 30 years for his choral conductor's life, and NAKAJIMA Kenzo music prize. On this concert, 18 composers, all are his friends, presented new pieces for him. And all are premiered.


Ritsuyu-kai
It consists of 4 mixed choirs, 6 female choirs and 2 male choirs directed by Kuriyama Fumiaki. It is active even if <Ritsuyu-kai> is taken with each choir doing a concert, recording and so on independently.
1988 Bertolt BRECHT / translated by HASEGAWA Shiro "Children's Crusade" composed by NIIMI Tokuhide and AOSHIMA Hiroshi commissioned by Ritsuyu-kai.
BRAHMS "Ein Deutsches Requiem" conducted by ISHIMARU Hiroshi.
BEETHOVEN Sym. No.9 conducted by ASAHINA Takashi, INOUE Michiyoshi, SADO Yutaka.
MAHLER Sym. No.3 conducted by Kent NAGANO, INOUE Michiyoshi etc.

102 Haitsu Kuze 2-28-4 Higashi Ikebukuro Toshima-ku, Tokyo JAPAN 170
Phone+FAX: +81-3-3985-5356


---

HOME(Japanese)
FUJIHIRA <thompay@mbe.nifty.com>
Tokyo Choir Kyo